Inspiring a new generation through football: Sameer Ahmad
Share the Article o Your Social Media Profile
Sameer Ahmad is a 19-year-old from Srinagar, who runs a football academy in Soura. Sameer himself plays football and trains young children of different age groups. He has garnered great support from society and his friends.
From humble beginnings, training 4-5 children to running a full-fledged academy, Sameer is doing credible work in society.
Beginnings :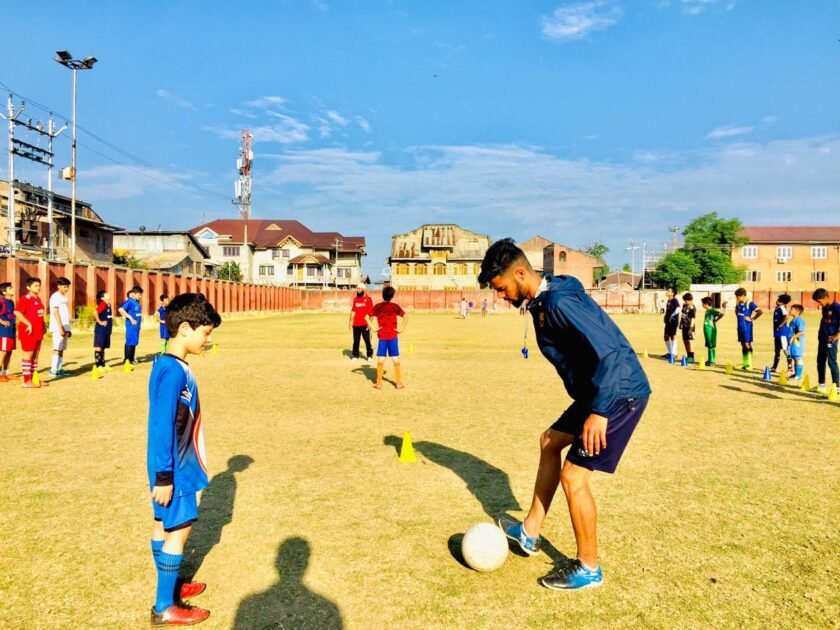 Sameer used to go to Higher Secondary School Soura to play football during last year's lockdown. It was there where the roots of his academy began to grow. He observed that a few of the young kids were just sitting about visibly upset.
When this young footballer talked to them he came to know they were quite disturbed by the ongoing conditions, the pandemic and lockdown had forced the closure of schools and tuition centres. This had an effect on their mental health.
"They were irritated and had nothing to do, this inspired me to train them to play football", Sameer said while talking to Kashmir Digits.
It occurred to him to train these kids and teach them how to play football and give them a useful hobby in these times.
He took the initiative and talked to the parents of these children. The parents backed him and brought equipment to support this budding academy. Slowly and steadily children from around the area joined in and Sameer had his own academy full of enthusiastic young ballers.
Elite Kashmir Football Academy:
The football academy by Sameer is named Elite Kashmir Football Academy. He has children from 6 years old to 14 year old teens practicing and enjoying football at Higher Secondary School Soura.
Currently, the academy boasts around 40 children.
Training begins at 6 am in morning. First, he makes them run and sprint followed by warm-ups and exercise to relax the muscles. Only after that do they start playing around with the football. There is also cool down after they are done playing. This shows how dedicated Sameer is towards his work and takes his hobby seriously. The routine he follows at his academy displays professionalism of the highest order.
The young footballer himself believes that children should be involved in sports because in these testing times children should have something useful to do. " It's not only football, any sport be it cricket, volleyball whatever the child wants to play, he should be encouraged because its important to stay fit mentally and physically", he told giving an important message.
Ultimate goal
Sameer hopes the talent of these children doesn't go to waste and they continue to play football and make it big on the field someday.
The job he is doing is highly appreciable since in these times children can easily be misled into vices that damage their lives. However, his contribution to society at this young age takes plaudits.
He dreams of making good players out of them and that every one of them achieves their goals in football and life going forward.
(Kashmir Digits story)